Mobile Recharge API Provider Ahmedabad, Gujarat
Empire Calls is leading Multi Recharge Company based in Ahmedabad, Gujarat, India. We are one of the best Mobile Recharge Software Provider in India. Our Mobile Recharge Software includes Recharge website and Mobile App. Empire Calls is providing greater way to generate revenue for website owners and shop keepers and multi recharge organization. Our Empire Calls Service can be the ultimate value addition that would attract more and more customers to your business. We are providing services including Single Sim Multi Recharge,Online Mobile Recharge API Provider,Multi Recharge Software Provider,Online Multi Recharge,Flat Commission,High Commission in India states including Gujarat, Delhi, Bihar, Chandigarh, Chhattisgarh, Goa, Haryana, Himachal Pradesh, Jharkhand, Karnataka, Kerala, Lakshadweep, Madhya Pradesh, Maharashtra, Manipur, Meghalaya, Mizoram, Nagaland, Orissa, Puducherry, Punjab, Rajasthan, Sikkim, Tamil Nadu, Telangana, Tripura, Uttar Pradesh, Uttarakhand, West Bengal, Chennai, Andhra Pradesh, Assam, Dadra and Nagar Haveli, Daman and Diu, Jammu and Kashmir.
Mobile Recharge Software
Empire Calls provides Mobile Recharge Software interface for users to use balance on any of Empire Calls Services.
Recharge Android App
Empire Calls provides Android Phone application for users to use balance on any of Empire Calls Services.

Live Support
(10.00 am to 7.00 pm)

Empire Calls provides Full Time working supports to its consumers.

To Contact Us -

Click Here
Multi Recharge Software Provider Ahmedabad, Gujarat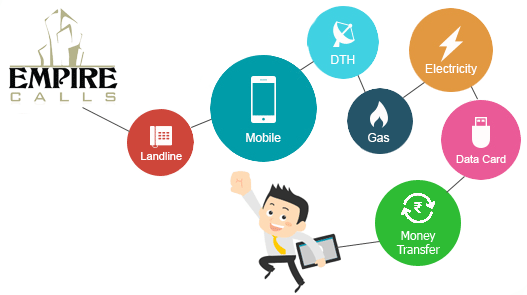 Our Services:
Prepaid Recharge.
DTH Recharge.
Data-Card Recharge.
Postpaid Bills.
Electricity Bill Payments.
Landline Bill Payments.
Bulk SMS Service.
Website Development and Support.